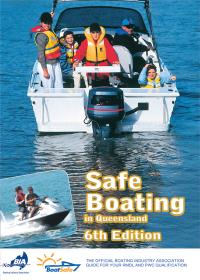 Safe Boating in Queensland 6th Edition
ISBN : 978-1-86283-169-8
Published Date : 01 June 2017
Product Code : BQ 01
Format : 80 page, full colour, wire bound, A4 textbook
Price:
$15.00
IMPORTANT:

THIS PRODUCT ONLY AVAILABLE TO AUSTRALIAN CUSTOMERS
Suitable for one day boat licence courses in Queensland
Sample pages
Syllabus Match
Teachers Information
Suitable for one day courses in Queensland
Support Material
Worksheets can be downloaded for free in our resources section. Just find this book icon and download the file called Safe Boating Worksheets.
Answers at the back of the book
Note:
1. You need to create an account, but this is free.
2. The worksheets have not changed since the third edition.
Contents
Unit 1 Trip planning
Safety obligations
Licence
General safety obligation
Alcohol and drugs
Marine parks
Pollution
Main parts of a recreational vessel
Hull design
Ship's master's obligations
Outboard motor
Controls and steering
Fuel tank and consumption
Deck
Battery
Pre-departure checks
Trip plan
Boat check
Maintenance
Spare parts and tools
Fuel
Seaworthiness of the vessel
Physical condition of the boat
Boat suitability and propulsion
Vessel stability and freeboard
Attachment of builders plates or capacity labels
Safety equipment
Water safety limit maps
Worksheet 1
Unit 2 Navigation
The COLREGS
Responsibility (Rule 2)
Proper lookout (Rule 5)
Safe speed rule (Rule 6)
Risk of collision (Rule 7)
Action to avoid a collision (Rule 8)
Speed limit of 6 knots
Rivers and channels (Rule 9)
When power meets sail
Overtaking (Rule 13)
Approaching bow of another boat (Rule 14)
Power driven boats crossing (Rule 15)
Responsibilities between vessels (Rule 18)
Restricted visibility (Rule 19)
Action by give-way vessel (Rule 16)
Action by stand-on vessel (Rule 17)
Water skiing rules
Large ships in rivers and channels
Vessel definitions and terms
Lights and shapes (Rule 20)
Definitions of lights (Rule 21)
Visibility of lights (Rule 22)
Lights for power driven vessels
Sailing vessels under way and vessels under oars (Rule 25)
Vessels restricted in their ability to manoeuvre (Rule 27)
Fishing vessels (Rule 26)
Navigation at night and poor visibly
Flags
Boats at anchor (Rule 30)
Sound signals (Rule 32)
The IALA buoyage system A
Lateral marks
Direction of buoyage
Cardinal marks
Isolated danger marks
Special marks
Middle channel marks
Emergency wrecks
Safe water marks
Lead lights
Sector and directional lights
Cable crossings
Anchorages
Boat ramp signs
Other navigation directives
GPS navigation system use and limitations
What you will learn in a GPS and navigation course
Suitability of the chart plotter
Unit 3 Weather and tides
Weather
Sources of weather information
Main features of a weather chart
Land and sea breezes
Effect of forecasting on trip planning
Tides
Sources of tidal information
Basic causes of tides
Calculate depth of water under a boat
Working out tides in secondary locations
Worksheet 2
Unit 4 Emergencies
First aid
Marine incidents
Fire on board
Grounding
Marine radios
Emergency radio calls
Unit 5 Manoeuvring
Departing the launching facility
Make an emergency stop
Pick up a mooring buoy
Man overboard
Tie a bowline in a length of rope
Anchor the vessel
Complete a figure of eight
Leave a jetty
Return to a jetty
Unit 6 Personal water craft
General safety obligation
Types and propulsion
Pre-departure checks
Safety equipment
Manoeuvring
On the water
Worksheet 3
Worksheet 4
Answers
Glossary of terms