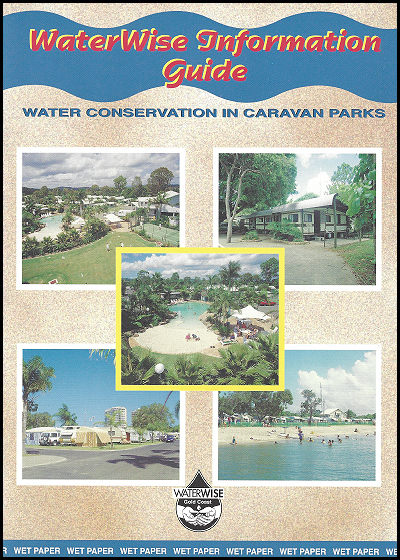 WaterWise Caravan Parks
ISBN : 186283043 6
Published Date : 01 October 1997
Product Code : F 66P 1997
Format : pdf file for download
by Sally MacKinnon
B.A. (Comm), Grad. Dip.Ed.
Wet Paper Consultant to the Gold Coast City Council WaterWise Program
Message from the Mayor of the Gold Coast City Council
Potable water is one of the mainstays of life - and here on the Gold Coast it is also one of our most important social and economic resources.
The City's image as a key tourism destination and a desirable residential area is greatly enhanced by its ability to offer a plentiful and high quality supply of fresh water. We are, indeed, fortunate to live in a relatively high rainfall area, leading many people to believe that fresh water is an abundant and readily renewed resource.
Thanks to the foresight of previous local governments, the City Council has the capacity, through its water supply and treatment facilities to adequately service the existing resident and visitor population. However, we are a rapidly growing region, and it is estimated that by the year 2005, it will be necessary for the Gold Coast to expand its treatment facilities to cope with increased demand. This is an expensive process, with ratepayers shouldering much of the cost.
Water conservation is, therefore, not only a social responsibility but an economic necessity. Through Water Wise practices, we can conserve our precious water reserves and extend the life of our ex.isling water infrastructure. All sectors of the community, both private and commercial, can contribute to and benefit from water conservation.
I warmly welcome initiatives from the caravan park industry to reduce water consumption. This guide is part of the Council's comprehensive WaterWise program which is part of a national objective to reduce water consumption by 20 per cent by the year 2000. The guide offers practical advice on Water Wise practices specific to caravan parks, and is the second of its kind produced by the City Council for local industry. A similar manual distributed in 1996 to the hotel and resort industry has already prompted considerable water savings for many of theCity's resorts, hotels and motels.
It is anticipated that the guide will be readily embraced by the caravan park industry, which has already shown a willingness to become involved in water conservation. Much of the information contained in the guide was gathered at the WaterWise Caravan Industry Expo, held .in March, 1997, and involving more than 100 South East Queensland caravan parks, a major trade display and relevant workshops.
Both the expo and the guide are 'firsts' for the Queensland caravan park industry. The guide is designed to be accessible and practical, offering advice on how to be WaterWise, without sacrificing service levels and the comfort of visitors.
I would like to thank in advance all those who will use th.is document to benefit their business and the City as a whole.
Gary J Baildon
Mayor
Teachers Information
This booklet was written for caravan park managers and owners
Contents
Message from the Mayor of the Gold Coast City Council
Message from Caravan Industry Australia
Message from Water Wise Queensland
Acknowledgements
Introduction
Know your caravan park - water monitoring

Water auditing caravan parks - two examples

Metering - water meters can save water and dollars

Water meters in a caravan park

Leak detection in caravan parks

Flow control systems in caravan parks

Shower roses in a caravan park

Infra-red urinals

Front-loading washing machines
Water-conserving landscaping for caravan parks
Water pricing
Gold Coast City Council Water Pricing Strategy

Quality products
WaterWise Plumbers and Master Plumbers Association
How to water audit your caravan park - a simple guide
Beyond water conservation
Contact list