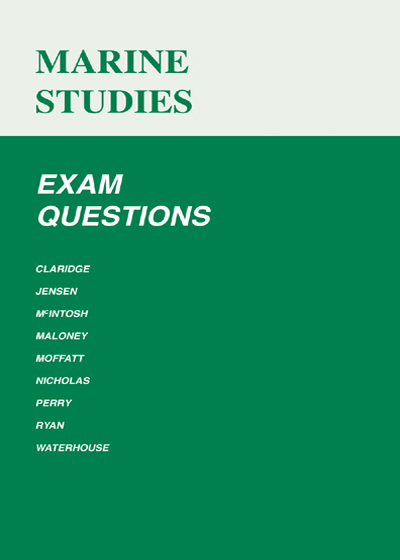 Marine studies exam questions
ISBN : 978-1-86283-124-7
Published Date : 18 November 1992
Product Code : F 33P
Format : Free PDF for download
by Dave Claridge, Geoff Jensen, John Maloney, Bob Moffatt, Ward Nicholas, Alan Perry, Tim Ryan and Geoff Waterhouse
Wet Paper pdf file licence conditions
By purchasing this file your school agrees to the following conditions.
The publisher and author/s of this pdf file grants to the school a revocable, non-exclusive, non-transferable right and licence to use the content, exercises, lab and field work lesson notes within the school for educational purposes only.
The title to, and intellectual property in these online resources rests with the publisher's author, illustrators, photographers and design consultants and nothing in the agreement should be construed as transferring those rights to the school.
Sample pages
Teachers Information
Acknowledgements
The publishers wish to thanks the Premiers Department for permission to use the following schools exam papers as trial materials for this publication.
Maryborough State High School
Innisfail State High School
St Augustines College Cairns
Rochedale State High School
Hervey Bay Senior College
Gympie State High School
Kawana Waters State High School
Benowa State High School
The publishers wish to thanks the following individuals for supplying their exam questions in this publication All foundation members of MTAQ
John Burns
Ken Young
Jim Cash
Sel Wensley
Czeck Kersevani
Tanya Martin
Rob Shennan
Sue Cerato
Bob Moffatt
John Howard
Tony Failes
Ann Summers
Jill Green
Steve Hall
Dianne Hempenstall
Graham Mitchell
Ann Kenny
Steve McCabe
David Reid
Margaret Evans
Veira Weitsz
Stanna Hodge
Greg Martin
Lisa Virtue
Mark Warne
Don Reid
Bruce Heyer
Greg Gallagher
Copyright
Except as permitted by the Copyright Act 1968 (Cth), you may not reproduce any of the contents of this publication, without the written permission of the copyright owner.
Educational exemption
There are exemptions under the Act that allow educational and government use of text, images and music scores for educational purposes.
These exemptions are in Part VB of the Copyright Act 1968 (Cth), where you are entitled to reproduce or communicate 10% of the words or one chapter from this file for educational use within your school. If you wish to reproduce or communicate MORE than 10% contact the copyright owner.
For more information, see www.copyright.com.au and www.copyright.org.au.
This is the original 1992 files in digital format that can be copied into word
Contents
Topic 1: Boating and Pilotage
Topic 2: Navigation, Radio and Weather
Topic 3: Snorkelling
Topic 4: Marine Biology
Topic 5: Management and Conservation of the Sea
Topic 6: Coastal Studies and Oceanography
Related Products