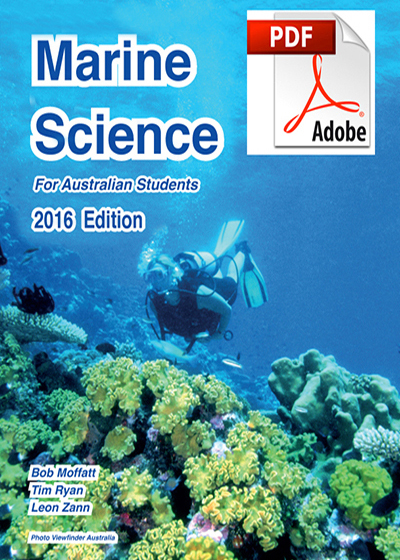 Marine Science 3rd Ed Ebook

ISBN : 978-1-86283-167-4
Published Date : 01 January 2019
Product Code : F 01P
Format : Downloadable pdf lifetime licence
by Bob Moffatt, Tim Ryan and Leon Zann
Ebooks by subscription
Ebook copies available from Campion Education on 12 month subscription for schools wishing to booklist their electronic publications
Click here for further information
Terms and conditions
Downloadable pdfs are sold with a lifetime PAY ONLY ONCE licence 
where the school agrees to the following conditions.
The publisher and author/s of this pdf file grants to the school a revocable, non-exclusive, non-transferable right and licence to use, FOREVER, the content, exercises, lab and field work lesson notes within the school for educational purposes only.
The title to, and intellectual property in these online resources rests with the publisher's author, illustrators, photographers and design consultants and nothing in the agreement should be construed as transferring those rights to the school.
Payment for this licence shall not constitute ownership.
However if any of your teachers transfer to another school or a teacher visits your school and that school does not have a licence, all we ask is that the school without the licence buys one.
Also if your school IT department has adobe acrobat pro, the licence allows you to export the pdf to a power point and the content to be rearranged and reused as you like to suit you class environment.
However you MUST keep the attributions under the photographs and illustrations and if you use text, you MUST attribute the author.

Sample flipbook pages
Teachers Information
3rd Edition NOW - FULL COLOUR
Suitable for students enrolled in year 11 or 12 wishing to study marine science at University or complete TAFE Marine Related competencies for example ecotourism or aquaculture
Support Material
Adam Richmond's suggested answers to the 22 chapters
Contents
Part A Oceanography
Chapter 1 Ocean and coastline formation
Chapter 2 Oceans and waves
Chapter 3 Currents and weather
Chapter 4 Coastlines
Chapter 5 Coastal engineering
Chapter 6 Seawater
Chapter 7 Marine pollution
Part B Marine biology
Chapter 8 Classification and marine biodiversity
Chapter 9 Marine plants (1)
Chapter 10 Marine plants (2)
Chapter 11 Marine invertebrates (1)
Chapter 12 Marine invertebrates (2)
Chapter 13 Marine vertebrates (1)
Chapter 14 Marine vertebrates (2)
Chapter 15 How they survive
Chapter 16 Ecosystems
Part C Management and conservation
Chapter 17 Problems in our seas
Chapter 18 Sustainable use of the sea
Chapter 19 Biodiversity and protecting marine life
Chapter 20 Fisheries biology
Chapter 21 Aquaculture
Chapter 22 Marine parks
Appendices
Index

Related Products