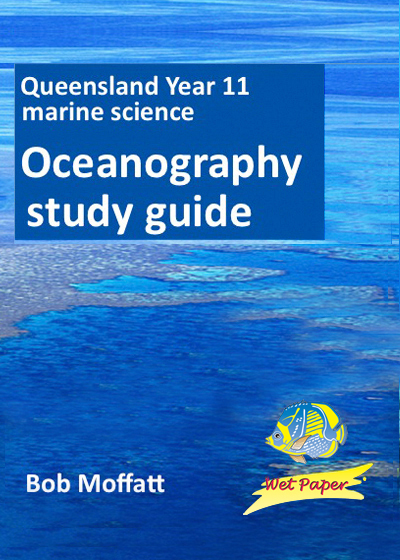 Unit 1: Oceanography study guide by subscription
ISBN : 978-1-86283-171-1
Published Date : 03 December 2018
Product Code : F 45P
Format : One year rental from campion education
By
Bob Moffatt
Matches the QSA 2019 Unit 1 Marine Science Syllabus
Yearly subscription
My connect yearly subscription available from Campion Education
https://myconnectshop.campion.com.au/storefront/searchcatalog.html?search=wet+paper&x=11&y=8
Subscription from the date of purchase where titles can be downloaded / accessed on 4 different devices using an account. Note: Content can't be downloaded, shared or printed.
Sample flipbook pages
Teachers Information
This is a read only pdf file of Oceanography power points 1-36 so students can see your power point before you present it or have it for homework after your lesson.
Contents
Chapter 1 Oceanography
Bathymetric features
Marine geology models
Biogeochemical cycles
Chapter 2 Ocean currents
Current driving forces
Ocean water, heat and nutrient distribution
Seawater properties
Effects of temperature, density and salinity
Oxygen minimum zone
Deep ocean circulation
Chapter 3 Ocean conservation
Argue ocean knowledge
Exclusive economic zone
Chapter 4 Coastlines
Shaping coastlines
Tidal movements
Sand movement
Wave definitions
Material movements
Coastal erosion
Weather patterns
Wave formation
Wave properties
Chapter 5 Coastal impacts
Coastal engineering
Longitudinal studies
How organisms populate areas
Population density data
Types of pollution
Chapter 6 Coastal conservation and impacts
Sustainable management
Stakeholder education
Pollution source comparisons
Monitoring water pollution
Biochemical oxygen demand
BOD use in pollution
Eutrophication
Pollution practices
Measuring pollution levels
Bio-indicator examples
Water quality testing
Related Products