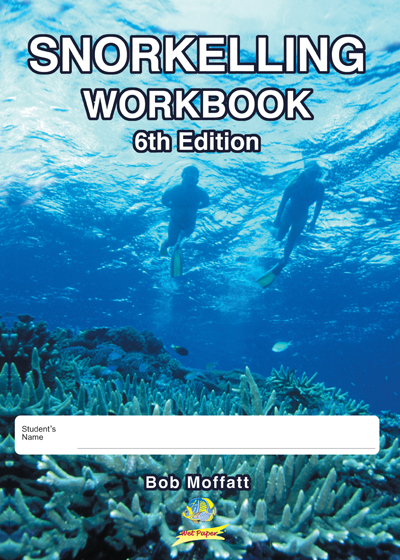 Snorkelling workbook 6th Edition HARD COPY
ISBN : 978-1-86283-1168-1
Published Date : 12 October 2016
Product Code : W102
Format : 80 page mono, wire bound A4 HARD COPY workbook
Price:
$18.00
IMPORTANT: THIS PRODUCT ONLY AVAILABLE TO AUSTRALIAN CUSTOMERS
Suitable for Marine Science and Marine and Aquatic Practices Syllabi
Basic and complex worksheets
Fully illustrated text
Addresses WPH&S requirements
Suggested EMI Projects
Sample pages
Teachers Information
New sections on physiology, safety, rescue and risk assessment
Really good for students who want to get jobs as a snorkelling guide
Support Material
Answer book available
Workbook available on appliction to bmoffatt@wetpaper.com.au
Workbook links to Marine Biology Workbook for Semester unit: - Can we research the biodiversity of our local area?
Contents
Introduction
Syllabus key concepts and objectives
Section 1: Physics and physiology
The eye
Worksheet 1 Snorkelling and the eye
Respiratory system
Worksheet 2 Respiration and snorkelling
How pressure affects the sinuses
Hypothermia
Worksheet 3 The sinuses
Worksheet 4 Circulation and temperature control
Effects of pressure
Worksheet 5 Effects of pressure
Boyle's law
Worksheet 6 Boyle's law
The ear
Effect of pressure
Equalising your ears
Worksheet 7 Snorkelling and the ear
Sound underwater
Worksheet 8 Equalising your ears
Worksheet 9 Air and sound underwater
Buoyancy
Worksheet 10 Buoyancy and snorkelling
The skin
Worksheet 11 Skin cancer
Section 2 Snorkelling equipment
Masks
Snorkels
Fins
Stinger suits
Wetsuits and rashies
Weight belts
Gloves and carry bags
Knives
Snorkelling vests
Specialized scientific gear
Worksheet 12 Equipment use
Worksheet 13 Equipment care
Worksheet 14 Aquatic materials and the sea
Section 3 Snorkelling practices
Fitting your mask and snorkel
Floating
Water entries
Worksheet 15 Getting into and out of the water
Worksheet 16 Finning
Diving
Worksheet 17 Duck diving
Worksheet 18 Clearing your mask
Clearing your snorkel
Worksheet 19 Clearing your snorkel
Section 4 Snorkelling first aid
The DRSABCD action plan
CPR notes
Recovery position
Drowning
Changes to procedures
Worksheet 20 Water safety skills (DRSABCD)
Worksheet 21 What if?
Section 5 Dangerous marine creatures
Sharks
Treatment of shock
Control of bleeding
Treatment for burns
Envenomations
Treatment for stonefish
Treatment for blue-ringed octopus and cone shells
Bluebottle
Box jelly
Irukandji syndrome
Scorpion fish
Stinging hydroid
Treatment of stings
Stingrays
Sea urchins
Bristle worms
Fish poisoning
Treatment for cuts
Treatment for spines
Worksheet 22 Dangerous creature ID
Worksheet 23 First aid administration
Section 6 Risks, weather and safety
Hazards, risks and control measures
Worksheet 24 Reducing snorkelling risks
Worksheet 25 Safety considerations
Equipment care and maintenance
Emergency planning
Worksheet 26 Emergency planning
Worksheet 27 Pool science activities
Worksheet 28 Your research project risk assessment
Section 7 Action research projects
Plan a snorkelling transect
Design a snorkel safety booklet
Conduct an investigation 6 choices
How successful is snorkelling as an ecotourism venture?
Section 8 Regulatory requirements
Regulatory requirements and procedures
Medical declaration

Additional Documents
Related Products