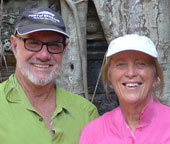 About Us
Wet Paper is the trading name of The Moffatt Group Australia, a company registered in Australia under ACN 086 521 084.
Our Australian Business Number is ABN 61 086 521 084
Our registered office at 32 Michel Drive Currumbin, 4223.
Wet Paper's contact details are:
Phone: 0418 769 790
Postal address: PO Box 540 Coolangatta 4225
Email: info@wetpaper.com.au
About
Wet Paper is a Queensland based publishing house, which produces curriculum materials for secondary schools wishing to educate students about the sea.
Wet Paper is owned by Bob and Paula Moffatt, who founded the company in 1987.  Before that Bob was Head of Science at Gladstone and Benowa High schools and Paula lectured at Gold Coast Institute of TAFE where she attained her Masters of Business Administration.
In 2020 Bob and Paula retired after 50 years teaching and publishing. They wish to thank their customers and c colleagues for their support over all these years. If time permits, Bob is still willing to answer questions about his publications.
Publications
Since 1987 they have published 52 secondary and 28 primary school books as well as acting as marine education consultants for UNESCO, Gold Coast City Council, WaterWise Queensland, the Great Barrier Reef Marine Park Authority, Sea World, Marine Safety Queensland and Surfrider Foundation. 
Their books and marine education resources are used throughout Australia and the South Pacific and are kept up to date by coordinating the skills of experienced Australian marine consultants, illustrators, designers and photographers.
E books
In 2014 Wet Paper worked with a Gold Coast web development company to create digital E books from the hard copy resources.
This resulted in a web-based distribution system that allows these E books to be read or downloaded onto android, apple and windows platforms. 
Australian made
Wet Paper exclusively printed and developed web-based materials in Australia.