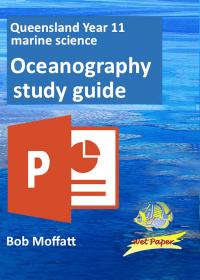 F46PP Oceanography powerpoints
ISBN : 978-1-186283 -171-1
Published Date : 30 June 2018
Product Code : F46PP
Format : Zip file with licence agreement
Agreement now finalised - scroll down to end of this page to download
Zip folder with a lifetime licence agreement payable over three years
- files can be modified
- licence for school community only condition school does not share with others (ie schools, slide share)
- if teacher transfers cannot use unless new school buys licence
Teachers Information
PROPOSED AGREEMENT
Scroll down to bottom of page to download
Between
Xxxx xxxxx
Xxxxxx xxxxxxxxxx State High School / College - hereby called "the school"
Xxxxxxx Qld xxxx
Email xxxxxxx@xxxxxxxxxx.edu.au
And
Bob Moffatt – hereby called "the author"
Wet Paper Publications – hereby called "the publisher"
32 Michel Drive, Currumbin QLD 4224
bmoffatt@wetpaper.com.au
Background
A. Xxxxxx xxxxxxxxxx is a marine science teacher at Xxxxxx xxxxxxxxxx State High School / College.
B. Wet Paper is the creator and author/supplier of printable and non-printable online resources and books and is seeking to aquire funds to sustain the web based resources listed in Schedule 1.
C. The publisher has agreed to give the school, a revocable, non-exclusive, non-transferable licence to modify the powerpoints in Schedule 1, for use by the school community.
It is agreed
1. Licence period
1 January 2019 – continuous
2. Grant of licence
2.1 The publisher grants to the school a revocable, non-exclusive, non-transferable right and licence to modify for classroom use the powerpoints listed in Schedule 1 for the sole purpose of creating further power point presentations, exercises, lab and field work lesson notes.
2.2 The title to, and intellectual property in these online resources rests with the publisher's author, illustrators, photographers and design consultants and nothing in the Agreement should be construed as transferring those rights to the school.
2.3 Payment for this licence shall not constitute ownership.
2.4 This agreement is conditional on the school purchasing powerpoints at the rates as outlined in Section 5 below, for the term of this agreement for use exclusively within the school community based on the number of students enrolled in Marine Science. The publisher reserves the right contact the school to confirm enrolment numbers.
3. Review
3.1 The parties agree that the licence can be reviewed should circumstances change for either party.
4.Warranty
4.1 The publisher warrants to the school that the author will supply all the files that he has been capable of producing as listed in Schedule 1 from a zip file on a nominated server.
4.2 The school warrants to the author and the publisher that they will not distribute, provide or on-sell either image or text metadata or any reproductions of the author's resources listed in Schedule 1 to any other school or any other person or organisation outside the school community.
5. Payment
5.1 To secure this agreement payment shall on invoice based on initial enrollment X $30. Min of 12.
5.2 Payment shall be by credit card from Wet Paper web site on an email from the nominated person in Schedule 2, stating the numbers of students enrolled.
Final details still being finalised
Schedule 1: List of powerpoints.
Chapter
Ch 1 Oceanography - Bathymetric features;
 Marine geology models;
 Biogeochemical cycles.
Ch 2 Ocean currents - Current driving forces;
 Ocean water, heat and nutrient distribution; 
Seawater properties
; Effects of temperature, density and salinity
; Oxygen minimum zone
; Deep ocean circulation.
Ch 3 Ocean conservation - Argue ocean knowledge; 
Exclusive economic zone
Ch 4 Coastlines - Shaping coastlines; 
Tidal movements
; Sand movement
; Wave definitions
; Material movements
; Coastal erosion; 
Weather patterns; 
Wave formation
; Wave properties
Ch 5 Coastal impacts - Coastal engineering; 
Longitudinal studies; 
How organisms populate areas
; Population density data
; Types of pollution
Ch 6 Coastal conservation and impacts - Sustainable management; 
Stakeholder education; 
Pollution source comparisons; Monitoring water pollution
; Biochemical oxygen demand
; BOD use in pollution; 
Eutrophication; 
Pollution practices; 
Measuring pollution levels; 
Bio-indicator examples
; Water quality testing
Schedule 2 Nominated teacher to detail number of enrolled students
School/college nominated person details
ie, details of person to supply numbers of students 2019
(Invoice will be based on this number)
Name: __________________________________________ Email ______________________________
If difference from above
Initial enrollment ________________
EXECUTED as an Agreement
Execution by the author Execution by the teacher Witness by the headmaster/mistress/principal/HOD

Contents
36 oceanography powerpoints in one big file - 0ver 1100 slides
Teachers create their own lessons by text cut out and pasted into powepoint notes. Image can then be enlarged and heading put in. Export to pdf and put on school server.
Life time licence
Additional Documents