Your Currency has been updated. Please note that currency conversion is approximate only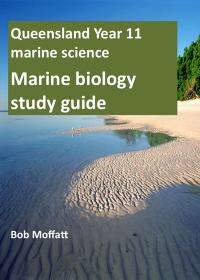 F48R Marine biology study guide

ISBN : 978-1-186283-172-8
Published Date : 10 July 2018
Product Code : F48R
Format : Study guide
This is now 100% complete to trial stage (unedited)

Sample flipbook pages
Teachers Information
FOR YOUR 2019 BUDGET
• $90 for 30 users
• FOR 12 MONTHS and your key will expire on 31st Dec.
Any questions
bmoffatt@wetpaper.com.au
0418 769 790

Contents
Chapter 7 Biodiversity
Three diversity types
Biodiversity
Ecosystem varieties.
Ecosystem connectivity implications
Diversity loss factors
Simpson's diversity index
Apply biodiversity data.
Important ecosystem definitions
Chapter 8 Biotic components of marine ecosystems
Identify biotic components
Categorise biotic interactions
Classify trophic levels
Describe matter cycling
Recall population terms
Assess population data
Chapter 9 Abiotic components of the marine ecosystem
Abiotic limiting factors
Distinguish abiotic components
Important limiting factors
Assess tolerance limit data
Apply zonation concepts
Population dynamic investigation
Chapter 10 Adaptations and classification
Categorise animal groups
Classify adaptations
Describe adaptions role.
Chapter 11 Marine conservation
Species habitat preservation
Marine ecosystem values
Stakeholder roles
Stakeholder value systems
Marine ecosystem issues
Ecosystem health terms
Chapter 12 Resources and sustainable use
Precautionary principles
MPA designs
MPA planning
MPA evaluation